I. Won. First. Place!
In the International Category of the "Worldwide Adventures of Punxsutawney Phil" photography contest!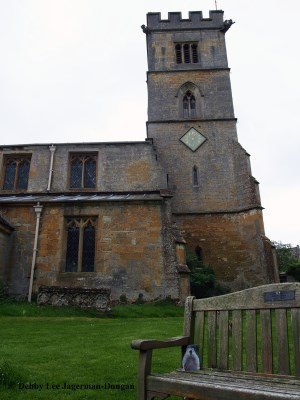 The premise of the contest is that the Groundhog Club provided me with a picture of Punxsutawney Phil that my husband and I took with us on our travels this past summer, both nationally and internationally. The background as to why I wanted to take Phil with us on various adventures is because, well, my birthday is on Groundhog's Day. And it sounded like fun to compose pictures with Phil in them.
This winning picture was taken during our 12-day walk through the Cotswolds area of England. I actually took pictures of Phil at many churches, and ironically this was the second church of our trip, and one of the first of many, many pictures of Phil taken throughout our summer. This church is the Saint Michael's Church in Buckland, a medieval church with some parts still existing from the years 1200, 1325, and 1480.
We also took Phil to London, and to a restoration project we are involved in at Burrow's Island Lighthouse near Anacortes, WA. The most fun place we took Punxsutawney Phil, I think, was backpacking to "the other Gobblers Knob" on Mount Rainier.
Sweet Travels!
If you want to see all this year's winners, here is a link on the Groundhog Club's Pinterest page.