On a clear day, while standing at the sandy and rocky tip near the West Point Lighthouse, you can amazingly see three of Washington State's major mountains and ranges at one time – Mt. Baker to the north, the Olympic Mountains to the west, and Mt. Rainier to the south. With beautiful views like this, it one of my favorite places on this planet.
Located below Magnolia Bluff at Discovery Park in Seattle, next to the waters of Puget Sound, with beaches on either side of the lighthouse, and hiking in the bluffs above, this would have been a beautiful setting for our wedding. Alas, they do not allow weddings to take place right at the lighthouse, only at a few places in the park above. However, it ended up not mattering much, because where we got married, right next to the Mukilteo Lighthouse, was perfect.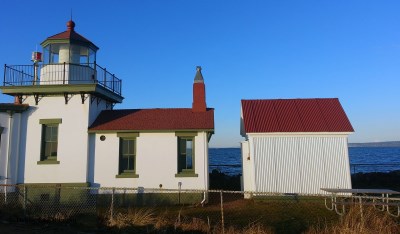 Construction of the West Point Lighthouse, also known as the Discovery Park Lighthouse, started in July 1881, and by November of the same year, it was operational. At a height of 23 feet, what makes this lighthouse unique is that this was the last lighthouse in the state of Washington to be automated, which did not occur until 1985.
Currently part of the City of Seattle Parks and Recreation Department, I love visiting the West Point Lighthouse at Discovery Park because it is close to home, has the hiking trails above, has great views, the water, and of course the lighthouse itself. The photos in this blog were taken on a clear January day a few months ago where my husband and I could see the Olympics (the first two photos), Mt. Baker (the small white spot, in the distance, on the right side of the third picture), and Mt. Rainier (in the distance on the right side of the last picture).
Sweet Travels!
Some information in this blog obtained from: Lighthouse Friends
For more lighthouse blogs, please visit my lighthouses category.