I didn't know that My Love would show up on the tenth night of our Wonderland Trail backpack trip. He didn't know that he would show up on the tenth night of our Wonderland Trail backpack trip. Until the day before…
Just two days earlier, Melissa and I had a re-supply day, where My Love Scott, and her love, met us at Mowich Lake to bring our extra food, our changes of clean clothes, and other supplies we had previously set aside for this day.
On this day, and prior to this day, Scott wanted to hike on this 12 night trip. But we have a cat, Norm, whom Scott cares for very much, and whom he prefers not to leave alone for long periods of time (even with visits from caring friends). Definitely not for the 12 nights we were backpacking.
I know Scott struggled with the desire to be out there in the wilderness. But all along, he supported me in my desire to backpack, and I supported him in his caring of Norm.
On our re-supply day, seven of the 12 nights had passed, and we acknowledged that we had missed each other terribly. And knowing that we had five more nights to go, we made our loving, supportive good-byes.
But then Scott went home, and unbeknownst to me, did some fast, and I mean fast, planning and packing. He got out maps and books, and along with our itinerary, he realized that there was one campground that he could meet us at, and be able to then spend the last three nights/three days on the trail!
During his quick planning time, Normykat (that's my nickname for him) was a big help, pointing to the possibilities on the map, reading the books, and carefully, together, weighing out the options.

Normykat with books, maps, and pointing paws
For Scott, it could mean taking a side trail to the particular campground we were at. If he were to take the actual Wonderland Trail itself, he would have two days of catching up to do, and that was too much. The side trail, however, was eight miles in, and a good possibility.
Several years earlier, one could actually drive five of those eight miles, but that was no longer an option. The road had been washed out with some storms, so the only way now to navigate this stretch of the road would be to hike…or bike.
So Scott grabbed not only his hiking gear, but his biking gear as well, and on the morning of the tenth day, he drove several hours from our house to the entrance to the road, biked five miles through gravel and rocks and trees, sometimes paralleling a river, with his backpack on his back, then carefully hiding his bike and camouflaging it amongst the trees, and finally hiking the last three miles to show up to our campground that night. Wow, what a day for him!
I was so surprised, and of course, so ecstatic that he showed up. And for the next few days, he was able to be out in the wilderness!
Normykat was alright for those few days. Our friend Vanessa, who also loves Normykat, came over to feed him, pet him, and visit.
And as for that bike left in the woods…well, the day after I completed the entire backpack trip of 60 miles, Scott and I walked the five miles of the washed out road, with my bike at our side, recovered his bike, rode back to the cars, and drove back home.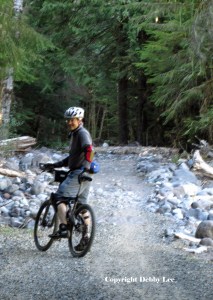 the camouflage, the recovery, the ride back
Sweet (and adventurous) travels!