They say that the eye is the window to the soul. But it is the soul that is the window. -Andrew Hamilton
I've been known to take photographs of windows and doors when I travel. I don't know why really. I guess the colors, shapes, patterns, surroundings, decorations, etc. appeal to me. I think the first time I photographed windows and doors was in Skagway, Alaska as I was bicycling around the town.
I have published three other blogs with my windows and doors pictures. Quito, Ecuador. Montepulciano, Italy. Porvoo, Finland.
These photos were taken in the Mekong Delta area of Vietnam, and while they are of windows and doors, they also show the homes as well. I loved the pottery piece, and the various shades of blue and turquoise, in the picture of the home above.
The purple gate and red flowers made for a welcoming entrance into this home.
I liked the child's tricycle, and the shoes scattered at the front door, of this ornate home.
And the motor scooter and cart with baskets in front of this home are classic items in Vietnam.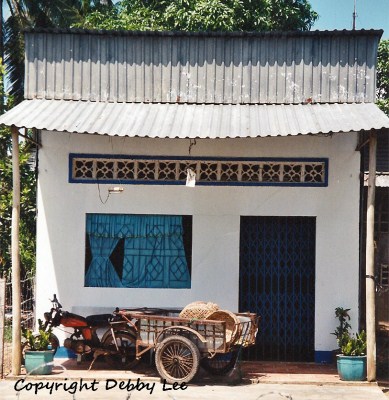 I know have more blogs to write in the future on windows and doors, as there are a few other towns in my photo albums. Maybe I'll even take some pictures of the windows and doors of Bhutan in October!
If opportunity doesn't knock, build a door. – Milton Berle
Sweet Travels!