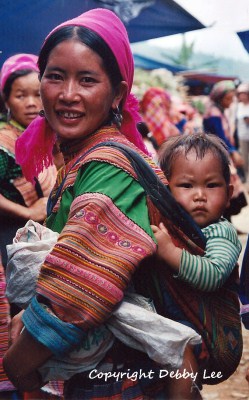 Even the name Flower H'mong suggests nothing but color. One of the 54 ethnic groups of Vietnam, the Flower H'mong are so-named because of their vivid, intricate, multi-colored embroidery, called pa ndau, which literally means "flower cloth." This needlework, with its motifs that are geometric, symmetric, and derived from nature, decorates their clothes, and certainly makes for some fabulous fashion.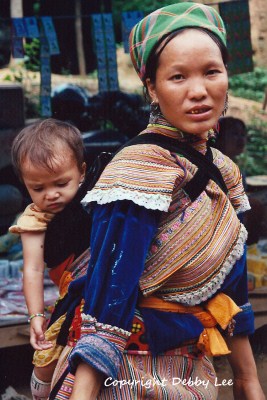 Pa ndau is a highly prized traditional art of these people. Passed down from grandmother to mother to daughter, pa ndau originated with ceremonial clothing for major life events including births, weddings, deaths, and for celebrating Tet, the New Year Festival.
Flower Cloth is also used on common items like carriers that strap babies to a mother's back.
As I walked through the Coc Ly Market in the Sapa region of northern Vietnam, where the Flower H'mong shop for just about everything, including food, household items, material and yarn, there was definitely color all over the place.
Perhaps I should have written this blog last month, so Happy Belated Mother's Day!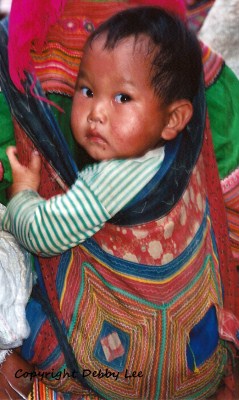 Sweet (and colorful) Travels!
More Visions of Vietnam Blogs:
Women Working in a Verdant Land
Women, their Smiling Faces, and their Clothing
Information source…Ten Thousand Villages