Q: What did the ocean say to the lighthouse?
A: Nothing; it just waved.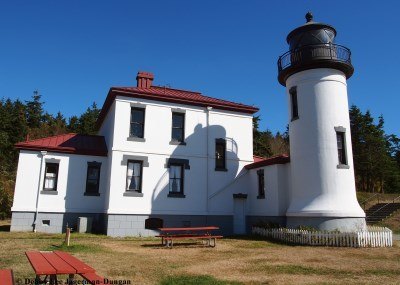 Q: What kind of house weighs very little?
A: A light house!
Q: What do you call a lighthouse with the lights turned off?
A: A dark house.
Q: What is my new item on my Bucket List?
A: To visit all of the lighthouses in the state of Washington.
Each time I visit I lighthouse, I learn something new about what life was like for the light keepers and their families. At Admiralty Head Lighthouse, I learned about Traveling Libraries. They are boxes filled with books that were delivered to the light keepers in the mid- to late-1800's due to the isolated life at many lighthouses around the country. Rotating every few months from lighthouse to lighthouse, the libraries were filled with classics, fiction, and even technical and educational materials so that the light keepers and their families could enjoy a variety reading subjects. At the time, 700 of these Traveling Libraries were in circulation, with dozens of books each. What a great concept!
Located a ferry ride away from Seattle on Whidbey Island, Admiralty Head Lighthouse, in Fort Casey State Park, overlooks Puget Sound, with views of the water and the Olympic Mountains beyond. The original lighthouse was actually called Red Bluff Lighthouse, built of wood, and became operational in 1861. This was replaced in 1903 by the Spanish-style building seen today, made out of brick and stucco, a unique building, rather than made out of concrete. (If I may point out, please note the shadow of the lighthouse tower against the building in the above pictures.)
Many lighthouses, like Admiralty Head, are open to the public to go inside, see refurbished rooms of the keeper's quarters, some decorated as if it were fifty or a hundred or more years ago, climb the tower to see the Fresnel lens, and even shop in a gift store. However, some lighthouses are not open to the public, and can only be viewed from a distance. Such is the Bush Point Lighthouse also on Whidbey Island.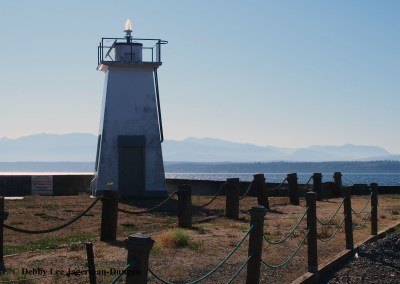 This lighthouse was originally a private light owned by a local family, the Farmers, who each night would hang a kerosene lamp from wooden gallows. There is a really cool picture of this old lighthouse at this Washington Rural Heritage/South Whidbey Heritage link. I have never seen a "lighthouse" such as this.
The current Bush Point Lighthouse was built in 1933, where the light sits on top of a 20-foot blue and white pyramidal concrete tower. No keeper's quarters, no tower to climb, no gift shop. In either case though, I love seeing either kind of lighthouse.
I have a list of lighthouses in Washington State from the website, "Lighthouse Friends," which shows that there are 27 lighthouses in the state of Washington. With visiting these two lighthouses of Whidbey Island this summer, and one it Tacoma (my next blog), I have now seen or visited 13 of them so far, including the one where we got married. About half way to my Bucket List goal, I have 14 more lighthouses in the state of Washington to go!
Sweet Travels!
Here is a link to all the other blogs I have written on lighthouses, including Burrows Island Lighthouse where I did some volunteer work, New Dungeness where we walked 10 miles round trip on a sand spit to visit, West Point Lighthouse located at one of my favorite places on this planet, several lighthouses in the San Juan Islands, several lighthouses along the Oregon Coast, and Mukilteo Lighthouse where we got married.
Information in this blog about Admiralty Head Lighthouse from:
Lighthouse Friends –Admiralty Head Lighthouse
Washington State University – Admiralty Head Lighthouse
Information in this blog about Bush Point Lighthouse from:
Lighthouse Friends – Bush Point Lighthouse
Northwest Maritime Heritage – Bush Point Lighthouse
Jokes that started blog are from the "Fort Casey State Park's Keepers Kids Admiralty Head Lighthouse Activity Book."
Information on Traveling Libraries from a sign on the display of the library in the Admiralty Head Lighthouse.