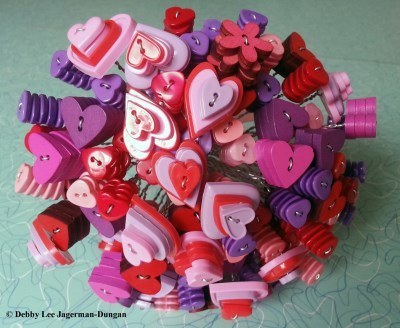 "Purple and pink and red." That is what my 4 year-old niece replied when I asked her what her three favorite colors were. "Why?" she asked. "Because I'm going to make you a surprise," I replied. That conversation occurred during one of my visits with my niece, and by the time I saw her on my next visit, I made her a button bouquet using her three favorite colors.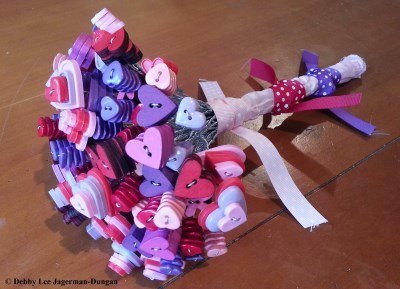 One day, I got the whim to try to make a few button bouquets because I had so much fun making "My International Brooch Bouquet" for our wedding that I wanted to try something else – using buttons instead of brooches. Now, I'm not getting married again, so there really was no reason such as that to make them. Mainly, I just felt like taping into my creative side, and into my "inner artist."
I used a variety of mostly heart-shaped buttons, and a few flower-shaped buttons, to make this special bouquet for my niece. I even used purple and pink and red ribbon on the stem.
The first button bouquet that I actually made before this one for my niece was a black and white one, which included a boutineer. I enhanced this bouquet with yellow sunflower buttons and several heart-shaped buttons.
The final button bouquet I created was based the colors of my room growing up as a child, yellow and orange, and added red to complete the first three colors of the rainbow. I wanted to make something that used really bright and fun colors. This bouquet was made with mostly round buttons, but I also added some flower-shaped buttons. And I made a boutineer to match.
"Thank you, Auntie Debby. I love it," my niece replied when I gave her her surprise.
Sweet Travels!
For my other bouquets, please visit my Brooch and Button Bouquets category.