The Northern Loop Trail is a 35-mile, 8500-foot-accumulative-elevation-gain backpack journey through some of Mt. Rainier's most remote wilderness. Last week, My Love and I took 5 days and 4 nights to hike through some exotic, breathtaking, and challenging scenery. Long days of hiking with elevation gains and losses that seemed to never end, were matched with weather that thankfully cooperated without a drop of rain. (Unless you count the 5 minutes of rain in the middle of one of the nights while we were asleep in our tent.)
Previously, I have backpacked the 93-mile Wonderland Trail which encircles around Mt. Rainier. The Northern Loop utilizes a couple days of this trail, but then ventures north, to campsites where we were the only people there for two of our four nights.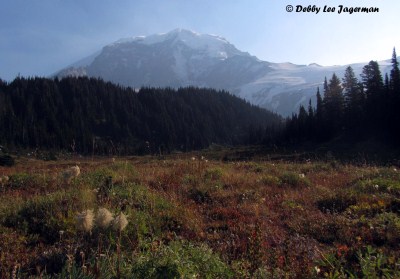 Territory in the entire Mt. Rainier National Park is inhabited by black bears, mountain goats, elk, and marmots, none of which we saw during this adventure. We did however see a few pikas, chipmunks, a frog, a tadpole, and fortunately just about no mosquitoes.
Sheer rock cliffs are part of the scenery, as are forests of fir, cedar, and pine trees. Water in the form of lakes, waterfalls, roaring rivers, and gently running streams provide plenty of places to relax and take a break from the exercise. Valleys and hills, dried-up river beds, and views of glaciers and snow-covered Mt. Rainier itself make the days filled with beauty. And meadows containing some wildflowers that are still lingering from the summer were up against the changing colors of the autumn leaves on the trees.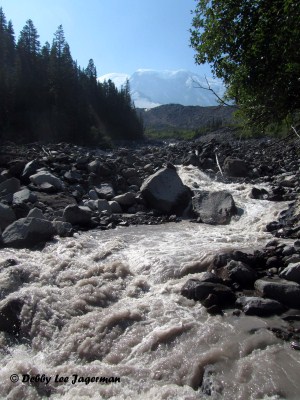 A day of hiking would last 6 to 9 hours, anywhere from 5 to 10 miles. Of course this included many stops to enjoy all the varied landscapes. And to eat. Sitting at various locations along the way, lunches sometimes consisted of almond butter or peanut butter on spelt tortillas. Jerky and protein bars made fine side dishes.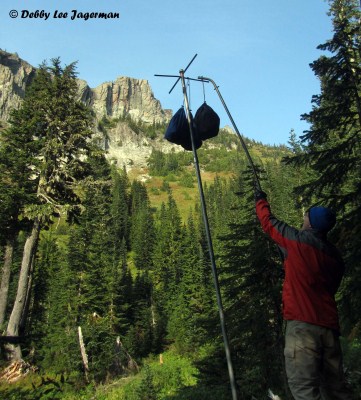 In the late afternoon as we arrived in camp, we started the "chores" of camping, getting as much done before the sun set with the shorter autumn days, and continuing in the dark with the light of our headlamps. Setting up the tent, sleeping bags, and sleeping pads; filtering lots of water for cooking and drinking; changing into warmer clothes for the evening.
Boiling water to cook our freeze-dried food for dinner was part of the evening activities. Examples such as spaghetti with meat sauce, beef stew, beef stroganoff, chicken teriyaki with rice, and macaroni and cheese were all filled with lots of calories to replenish what we burned off during the long days. We each even ate our own 2-serving bag each night! Chores continued with brushing our teeth, and finally hanging all of our food, garbage, and any scented toiletries on a bear pole before finally drifting off to a well-deserved sleep. (Although the bear poles were also to keep the food away from the elusive chipmunks and any other creatures who might want to nibble in the middle of the night.)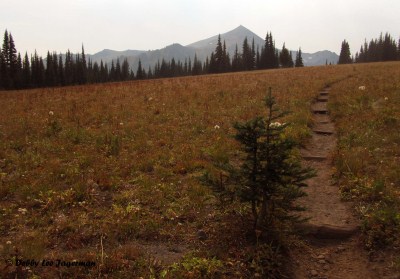 We would awaken just before the sun came up to get a start on the morning chores. Taking down the tent, putting away the sleeping bags and pads; boiling more water for the morning's breakfast of freeze-dried eggs with bacon, and oatmeal flavored with peanut butter and raisins; washing my hair with extra hot water left over from the boiled water; changing back into hiking clothes. We would finally throw on our backpacks (which initially weighed 45 pounds each as we needed to carry 6 days worth of food), and begin hiking once again only to discover new scenery and new adventures not experienced the day before.
Sweet (and adventurous) Travels!