Skagway, Alaska. Historical Klondike gold rush boomtown of 1898. Gateway to the Chilkoot Trail. Home of the White Pass & Yukon Railroad. A place with a residential population of not even 1,000 year-round. But that can jump to several thousand per day during the summer months with the influx of tourists from cruise ships. Amounts of people only seen before during the gold rush days.
Skagway is only 23 blocks long – conveniently numbered 1 to 23. And only 5 blocks wide – Alaska Street, Main Street, State Street, Broadway Street (the "tourist" street with the main attractions), and Spring Street. (Although Spring Street is not as long as the other four.) Surrounding these blocks is the railroad tracks paralleling on the east side, and the airport runways on the west side; at the south end of town are ferry and cruise ship docs; and at the north end is the Gold Rush Cemetery.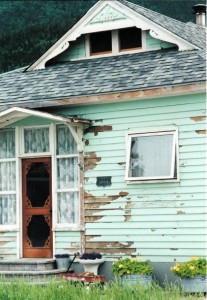 Nearly exactly about 7 years ago, I was in Alaska on one of my first solo travels. I was not one of the thousands visiting from the cruise ships. Instead I was an independent traveler who had made her way up the Inside Passage on a ferry.
I did some fun things during my Skagway visit – a private tour of gold rush remnants in the ghost town of Dyea, including seeing an actual archaeological excavation where there was wood debris from an old hotel, rusted out cans, and old glass bottles; I went to White Pass via the railroad; I hiked on local trails; I even saw the beginning of the Chilkoot Trail (although I did not hike this).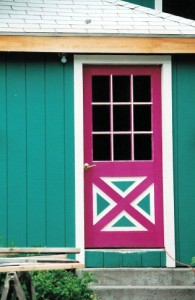 And for some unknown reason, as I was fascinated with the history of the gold rush, I wanted to see the cemetery at the north end of Skagway. I rented a bicycle from the hostel I was staying at on 3rd Avenue to bike the 20 blocks to get to the end of town. A mere two miles for this bike ride.
Strangely, being in the cemetery spooked me out too much, and out of respect for the deceased, after spending only about a minute there, I hopped on my bike to leave.
I wasn't really sure where I was going to bike to next as the town was small, and I had done plenty of touristy things already, and I had no other plans. So, I decided to get off the beaten path (one of my goals when I travel) and casually zigzag through the streets just to explore.
I immediately noticed the homes. Historical. Seemingly older. Some probably around for over 100 years from the gold rush days. Colorfully painted, but the wear and tear was noticeable. Yards decorated with flowers and plants. I observed doors, window, porches, fireplaces, bicycles, even dogs and American flags. I began to take one photo, then another, then another. I became obsessed with taking pictures of the homes of Skagway, just as I became obsessed with photographing the windows of Porvoo.
This blog contains a sampling of the photos that I took of the homes of Skagway.
But I also bring up Alaska not only to talk about my time in Skagway, and display my photos, but also I am going there again very soon, nearly exactly about 7 years later. But this time instead of it being a solo trip, I am meeting my youngest sister in Anchorage who currently is working there for the summer.
This sister, who is 15 years younger than me, and I, have traveled together before. A priceless trip to Iceland to be specific, nearly exactly about 3 years ago, where despite our age difference, it was like traveling with my twin.
And so I shall venture up north again, where we, at the moment, have no set plans. Explore around Anchorage for a bit. Then rent a car and either drive north to Denali, or drive south to the Kenai Peninsula. Who knows? We shall see where two sisters end up.
And perhaps I will find some town where I will take yet another series of pictures of something that captures my attention, as did the homes of Skagway.
Sweet travels!
All photos by Debby