The rooftops of homes, sometimes colorful and varied, sometimes similar in texture and style; churches and cathedrals with their ornate spires, rounded domes, and soaring bell towers scattered throughout, yet seemingly dominating, the scenery; majestic castles and towers, and functional bridges; trees, vineyards, rolling hills and farmland, or perhaps waters, surrounding beyond; the activity of people below.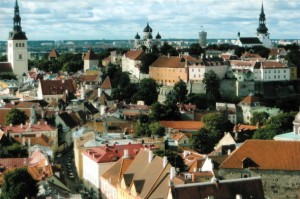 Tallin from the Tower of Oleviste Church
This describes some of what you will experience when surveying a general overview of a European city. This fabulous way of getting a sense of what Europe is all about is accomplished by obtaining the highest point possible in any given city. Church bell towers, cathedral domes, observation towers, hills…getting to the top of any one of these gets you high above a city to see the spectacular views.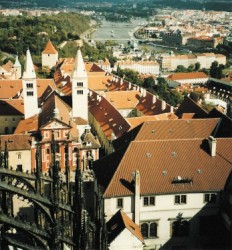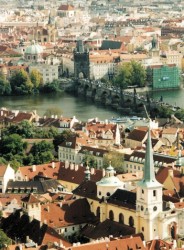 Views of Prague from St. Vitas Cathedral
While I was on two separate journeys to Europe, one a five-month solo trip, the other a 15-day circumnavigation of the Baltic Sea, I made it a goal to climb to the top of every possible viewpoint that I could. And when I say climb, I mean I didn't take the elevator – I took the stairs!
Approximately 6,800 stairs, give or take, at the very least, to be almost exact!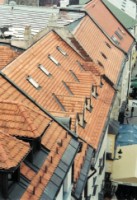 Rooftops of Bratislava, Florence & Tallin
Not only did I want to see the cities from above, I also needed the exercise. Yes, I did quite a lot of walking in Europe in general, and climbing stairs, sometimes several hundred at one time, kept me in shape. It also allowed me to eat all the spectacular European food without any guilt.
The accountant in me actually kept track as best as I could of how many stairs I stepped on each time I meandered up a bell tower, or church dome, or whatever it was that I was climbing. Many times the ticket booth actually tells you how many stairs there are to complete, usually as a kind warning to make sure one is in good physical condition. Other times, I actually counted the steps myself, as I was always curious.

Views of Riga, Latvia and Zadar, Croatia
To name a couple of places that I climbed, in Italy for example, there was the bell tower of the Duomo of Florence (414 steps), the Torre Guinnigi in Lucca (227 steps), and two towers in Sienna – Torre al Mangia (400) and the tower of the Museo dell' Opera (132). There was also the bell tower of St. Mark's Basilica overlooking St. Mark's Square, but for some reason I don't have a count on the steps there. If I recall correctly, they only allowed an ascent by an elevator.
Occasionally, I climbed stairs not to overlook a city, but to get to a city, such as the town of Corniglia in the Cinque Terre part of Italy. On that occasion, I climbed the 370 stairs, not only once, but twice, as I visited the town on two different days. (Of course, I could have taken a bus, but chose to hike.)

Venice, Italy from St. Mark's Tower
The longest flight of stairs was actually the first ones that I encountered during my solo trip to Europe – the 530 stairs of the dome of St. Paul's Cathedral to the Golden Gallery in London.
I would have liked to have climbed the Eiffel Tower in Paris, but alas, there they make you take an elevator. Although I did get to climb the 299 steps of Petrin Tower of Prague, also known as the "mini Eiffel Tower." However, in Paris, I did get to ascend the 444 steps of the tower of the Notre Dame Cathedral, and the 284 steps of the Arc de Triomphe.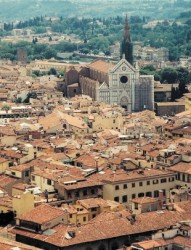 Florence, Italy
Most of the cities had churches or cathedrals with staircases, but in Berlin there was a synagogue with 125 steps, so that I observed Berlin from both the Berlin Cathedral (267 steps) and the synagogue. In Milan, I climbed 250 stairs so that I could actually walk on the roof of that city's cathedral. There was a castle in Ireland with 51 stairs, and there were 400 steps leading to a monastery built against a cliff wall on the island of Amorgos in Greece.
In Copenhagen, the Round Tower offered a quite different way to the top. Instead of stairs, this building had a spiral walkway turning 7 ½ times as you approached the views. (This is not part of my 6,800 accomplishments, as I really couldn't count definitive steps.)

Lucca, Italy
Furthermore, however, I would have to say that my accounting of the 6,800 stairs of Europe does not really include the stairs in the hostels that I would climb to get to my room, or the staircases to the second or third floors of museums, or the occasional couple of steps here and there to various other buildings, restaurants and stores that I visited. Thus, must have conquered more than 6,800 steps!

Siena, Italy
A definite bonus in climbing all these flights of stairs, particularly in the bell towers of churches and cathedrals, aside from the views and the exercise, was the actual church bells. Not only seeing these large sources of European sound up close, but on several occasions hearing them ring their spectacular melodies and chimes just as I was up there next to them.
You know, now that I think about it, I really must have actually climbed at least 13,600 steps, for each time I went up, I had to come back down…
Sweet Travels!
All photos Copyright Debby Lee 2009.
P.S. Here is a list of the stairs I climbed:
South Tower of St. Stephan's Cathedral – Vienna, Austria – 343
Zadar Tower – Zadar, Croatia – 178
Bell Tower (approx) – Split, Croatia – 50
St. Vitas Cathedral in Prague Castle – Prague, Czech Republic – 287
Petrin Tower ("mini Eiffel Tower") – Prague, Czech Republic – 299
St. Nicholas Cathedral – Prague, Czech Republic – 60
Dome of St. Paul's Cathedral to Golden Gallery – London, England – 530
Tower of Oleviste Church – Tallin, Estonia – 258
Hall Tower – Tallin, Estonia – 118
Tower of Notre Dame – Paris, France – 444
Arc de Triomphe – Paris, France – 284
Dome of Berlin Cathedral – Berlin, Germany – 267
Neue Synagogue Museum – Berlin, Germany – 125
Monastery near town of Hora – Amorgos, Greece – 400
Lykavittos Hill (approx) – Athens, Greece – 75
St. Stephen's Basilica – Budapest, Hungary – 302
Castle near Gallarus Oratory – Dingle Peninsula, Ireland – 51
Bell Tower of St. Mark's Basilica (elevator only?) – Venice, Italy – ?
Bell Tower of Duomo of Florence – Florence, Italy – 414
Torre Guinigi – Lucca, Italy – 227
Torre del Mangia – Siena, Italy – 400
Tower of Museo dell' Opera – Siena, Italy – 132
Bell Tower of Duomo…Torre del Moro – Orvieto, Italy – 250
Duomo of Milan…to roof – Milan, Italy – 250
Town of Corniglia, from trail below up to town – CinqueTerre, Italy – 370
Town of Corniglia, from trail below up to town – CinqueTerre, Italy – 370
Riga Cathedral Dome – Riga, Latvia – 58
Michael's Tower (approx) – Bratislava, Slovak Republic – 50
Grossmunster Church – Zurich, Switzerland – 187
TOTAL: 6779