Curious about fire engines and fire hoses and fire alarm devices? Interested in fire fighting services and fire fighting equipment and techniques? Want to learn about some causes of fires, or educate yourself on fire safety? Want to know about the history of fire fighting? And how about all this when you travel to the country of Latvia?
Then next time you are in Riga, please visit The Latvian Fire Fighting Museum. Located in a fire station built around 1911, using an Art Nouveau architectural style, this "quirky" museum presents history and objects of fire fighting in Latvia. From 1912 to 1944, a unit of the Riga City Fire Fighters Division used the building where the museum is currently located. And today, the State Fire and Rescue Service of Latvia still occupies part of the building.
The museum presents the fascinating history of Latvian fire fighting, from 1864 to 1940, as well as more recent history of Latvia's State Fire and Rescue Service. The museum demonstrates fire techniques used, including hand pumps and steam pumps and engine pumps. For viewing are some cool-looking fire engines from the "Chevrolet-Sux" 1930's production line. Fire fighters' helmets, tools, uniforms, fire alarm devices, hoses, nozzles, awards, medals, photographs, documents, flags and other objects are exhibited, as well as data about some causes of fires and the resulting damage.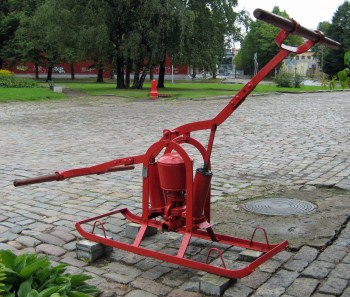 Unfortunately, when I went to visit this museum, just like my attempt to visit The Mini Bottle Gallery in Oslo, Norway, Riga's Fire Fighting Museum was closed. (I really must plan some things better when I travel.) But, at least I was able to see the architectural style of the building, three cool-looking decades-old fire engines through the windows, and what looks to be some type of pump (probably the hand-type) displayed on the outside of the museum.
Per the State Fire and Rescue Service's website, I must say that I like this about the museum: "The Latvian Fire Fighting Museum has an important role in the education of the young generation in the area of health and life protection. In the exhibition children can adopt basic knowledge about the fire safety regulations, on behavior in case of a fire, and how to protect themselves and others in extreme situations."
As a child, I certainly remember learning how to "stop, drop and roll…"
Sweet (and safe) Travels!
Facts, history and quotes complements of the "State Fire and Rescue Services of Latvia" website.