Start small. Start simple. Start short. Start local. Start with something enjoyable. That is what I did when I knew that I wanted to begin traveling solo. I wanted to test the waters before I really ventured out into the world. Here is the story of my first solo travel experience, and if one of you women reading this blog is not sure how to get started on the adventure of solo travel, maybe this will give you some guidance and inspiration.
Start with something enjoyable: I like walking and hiking. I like the outdoors and nature. And I happen to like lighthouses. For my first solo trip I decided to go to the New Dungeness Lighthouse on Dungeness Spit on the Olympic Peninsula of Washington State. It is a 5 1/2-mile walk (each way) on a sand spit out to the lighthouse.

Dungeness Spit
Start local: Since Washington state has so many opportunities for the type of exploration that I like, I wanted to take advantage of that fact. Also, I wanted to travel somewhere within a couple hours driving distance, not too far from my home (Seattle), making sure that I could get home easily and quickly, just in case I wasn't comfortable with my solo trip.
Start with a time when the weather would most likely cooperate: I chose a warm summer month, June. I had to make sure that I was picking a time of year where it would be possible to walk the Spit without worries of tides or waves or storms. If the weather was not cooperating, I was only a few hours from home. Of course, one can't control the weather, so sometimes a good attitude is needed if the weather is not exactly what you wanted, as long as it is safe.
Start with packing the essentials, and packing light: I needed comfortable clothes to drive in, and appropriate clothes to walk in. Over the years, I have learned to pack as light as possible for my travels, depending on where I am going and what I am doing.
Start with a short, yet reasonable time frame…I decided that I wanted to do this trip in two or three days. After consideration, I realized that two days would be enough, but I would give myself an extra day cushion time, just in case. I left on a Friday evening, drove part way, and stayed over at a hostel (more on that later). The next morning, I drove the rest of the way to the Spit, walked to the lighthouse, toured the lighthouse, walked back, and returned home that evening. If I needed to, I could have stayed one more night in the hostel after the walk.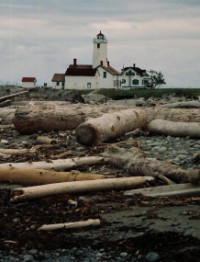 Start with accommodations that feel comfortable, or stay somewhere new as an experiment: I knew that if I were to travel more in the world, for budget reasons, I would want to stay in hostels. So on this first solo trip, I decided to get the experience of knowing what staying in hostels would be like. I stayed at Olympic Hostel in Port Townsend, which is actually formerly an army barracks building. Staying here really gave me a flavor for what it is like to eat and sleep in a shared environment. Also, I made a reservation ahead of time so that I knew that I would have a place to sleep.
Start with a popular place: Safety and loneliness was a slight concern of mine, so I wanted to make sure that other people would be around. Choosing a hostel and a popular place to visit were ways to alleviate any concerns. To test out my potential loneliness, I also decided to take myself out for a good meal at a restaurant, where I would be sitting by myself.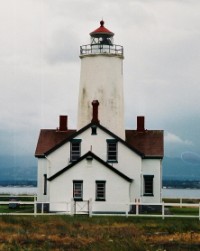 New Dungeness Lighthouse
Small starts lead to success! Fortunately for me, everything on this solo journey worked out, and I realized that I could travel solo!! The location was convenient, the weather cooperated, the hostel was comfortable, and the people in the hostel were friendly and helpful. The scenery was spectacular on the Spit and at the Lighthouse!! I didn't mind walking or eating by myself. In fact, I rather enjoyed the solitude. I was also able to interact with people as needed.
Starting with a local and enjoyable experience made me want to travel solo even more…
Sweet Travels!
(New Dungeness Spit photo from Wikipedia)