Silk Island outside of Phnom Penh. Appropriately nicknamed, because as one bicycles around for what could be hours, you are able to see some amazing women sitting at their looms, weaving silk into beautiful pieces of material. Watching these women silk weaving is like watching a well choreographed dance, as they effortlessly and gracefully use their hands, feet, and bodies to blend the silk together.
There is so much action going on in their silk weaving process that I could not quite follow what these women were doing. Basically, they would push a roll of silk through the strings of silk that were already placed lengthwise on the loom. They would move various parts of the loom at the same time to push the strings together to make a tight weave. Row by row by row the material was created.
As you can see in the three photos below, this woman's body moved into many positions as she weaved. It was beautiful to watch.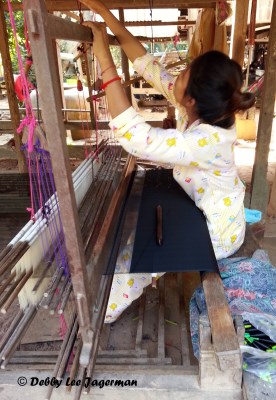 The woman's foot was also in action. In the three pictures below, she would move her foot from the back pedal, to the middle pedal, to the top pedal, over and over again, as she wove the silk together. Like a concert pianist tapping the pedals of the piano creating the perfect sound.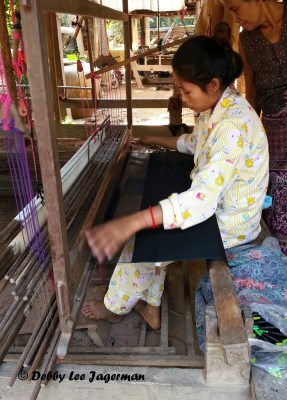 The homes on Silk Island, called Koh Okyaheti, are built on high stilts. The looms are thus actually located outdoors, underneath the houses, so as you cycle around, you can bike right up to the home to watch. To get to the island, there is a short ferry ride crossing the Tonle Sap River. As you board with your bicycle, you are surrounded by locals on their motor bikes making their way back home. There are other aspects of the island to explore as well, such as villages and farmland. All in all, an excursion to Silk Island makes a wonderful way to spend at least a half a day.

Silk scarves and other items made out of silk are available for purchase, not only on the island, but in other places in Phnom Penh as well. Cotton is also used for the weaving process, and at times the material might be a silk-cotton blend. I was very lucky and actually got to purchase some freshly woven silk right off the loom. I will need to make something out of my material, but I haven't decided just what yet.
This blog actually finishes a series of blogs about amazing women in Cambodia who do some interesting work with their hands. In addition to these silk weaving women, there were the women who created rice paper for spring rolls, by hand. The woman who sealed and labeled bottles of wine, by hand. And the woman who created pottery by walking in perfect circles, by hand.
Sweet Travels!