I'll admit, I don't have a shoe addiction like Carrie Bradshaw, the icon of the famed "Sex and the City." Her fondness of expensive designer shoes led her to spend over $40,000 on around 100 unique pairs of shoes.
Nor do I have, anywhere at all, not even close, to the just over 1,000 pairs of shoes that Imelda Marcos, an influential political figure of the Philippines, is known to have indulged in.

Lady's shoes, Swedish, c. 1700
No, put me in a pair of high-heeled shoes, and my feet hurt. In fact, I have more pairs of highly unfashionable hiking boots than I do of fancy, dressy high heels. No, I'm not chic when it comes to my feet. I actually prefer comfort to style. Put me in a pair of flat walking shoes, something that I can just slip my feet into, and I have happy feet. Put me in a pair of flip-flops in the summer, and my feet are doing a happy dance.

Queen Sofia's button boots of silk velvet in the fashionable new color mauve, 1870's
But, when I walked into the Royal Armory of The Royal Palace in Stockholm, Sweden, a place filed with Swedish art, history and royalty, and I saw this unique exhibition on royal footwear, my feet couldn't help but become quite envious of the beauty, the fashion, the colors, and the variety of what my eyes were seeing. My feet even said to me, "Deb, why don't we ever wear something like that?"

Sofia Magdalena's coronation shoes, 1771
I spent a lot of time examining the collection displayed before me in this "quirky" museum. There were around 330 pairs of boots and shoes, showing a "representative selection to illustrate how Swedish royals were shod from the beginning of the 17th century to the end of the 1960's." It was a regal display of shoes worn by Kings and Queens.

Coronation boots of Adolf Fredrik (1751), Gustav III (1772) and Gustav IV Adolf (1800)
My feet gazed with awe at coronation boots and shoes, riding and button boots, pumps and sandalettes, wedding shoes, slip-ons and slippers and sandals, leather thigh and 'Roman' sandal boots, and evening shoes. There were shoes made of calfskin and goatskin and patent leather; suede and silk and silk velvet. There were shoes decorated with bows and spangles and buckles; and gold and silver embroidery.

Queen Victoria's white silk atlas wedding shoes, 1881
After walking around the museum for a while, I decided that I just had to buy the museum's book, written in both Swedish and English, entitled, "Shoes Have It All…Power, Vanity, Magic." I read that "the exhibition sets out to demonstrate that boots and shoes are more that just footwear. They are social indicators which, together with all of our other items of dress, tell of taste and style, power and prestige." The book continues, "Shoes aren't just something we put on to protect our feet. [They] serve to tell other people who we are and what we dream of becoming. Shoes don't only express your personality, group identity and social standing. We can dress up our feet to signal power, vanity and magic." (Well, I had no idea shoes could do so much.)

Shoes formerly belonging to Charles X, with fashionably red-painted heels and sole edges and decorated with elaborate bows
I had to delve into these concepts more. Power…"Kings and queens in past centuries had the power to reform society, go to war and make peace." Shoes indicate strength, position, status.
Vanity…Kings and queens "were financially capable of surrounding themselves with luxury and giving free rein to their love of display." Shoes indicate fashion.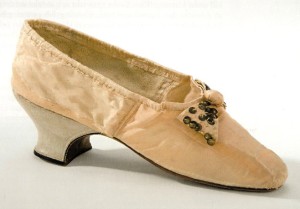 Queen Desideria's silk shoe, including a silk bow decorated with 31 gold-colored spangles
Magic…"The aptly chosen shoe can positively reinforce the self-image we want to project." Some examples from the book – shoes can boost self-esteem; the color can be symbolic (for example, red infers passion, whereas white infers purity and innocence); shoes can represent a memorable occasion, such as weddings; the higher the heel, the more power; and everyone remembers Cinderella and her magical glass slipper…

Queen Desideria's coronation shoes, 1829
In fact, some have described shoes as "candy for the eye, a poetry of the feet." (Wow, I never really thought about shoes quite this much. I'm impressed.)
There is even a chapter in the book showing that shoes have been portrayed many times in art, from artist such as Vincent van Gogh and Salvador Dali and Andy Warhol.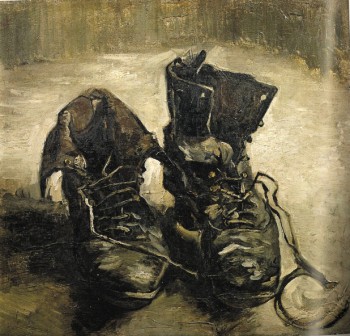 Vincent van Gogh, A Pair of Shoes. 1886
Shoes somehow then became a theme during my 15-day circumnavigation journey around the Baltic Sea. My feet walked into the royal footwear exhibit on my first day, and by the last day, I was still seeing something related to shoes.

Queen Lovisa Ulrika's coronation shoes, 1751
At a folk museum in Oslo, Norway, Frederikke Helene Cappelen, an elegant Danish actress, wore this pair of white silk-covered shoes, which came from Paris around 1850.

Mrs. Cappelen's shoes, covered in white silk, from Paris c. 1850
In Copenhagen, Denmark, just walking down the street, out in front of a shoemaker and shoe repair store, was this miniature cobbler doll working on making his miniature shoes. (You may not be able to tell from this picture, but this cobbler was no more than a foot tall.)
In the train station in Mälmo, Sweden, a souvenir shop was ironically selling these mini shoes. Again, you may not be able to tell from this picture, but each pair of these fashion statements was only about 6 inches in length. (Looking back, I should have bought a pair of these…but there were so many cute ones, that it would have been hard to decide which to purchase.)
Finally, I needed a book to read on my flight back home. I browsed around a bookstore, and what do you know, I came across a book entitled, "How to Walk in High Heels – The Girl's Guide to Everything." Well, that was my clue to get the book and figure it out. My feet even said, "Yes, that is the book you will read on the plane!"

Lady's mule slippers with long, narrow Continental toe, early 18th century
This book is dedicated to "aspiring Cinderellas everywhere." (Aha, the magic.) I read in this book very useful things that every girl should know….for example, how to be stylish, how to be groomed, how to deal with unpleasant situations, how to play chess and poker, how to have good table manners, how to apply red lipstick and get it to stay, how to knit one purl one, how to care for tulips, how to make the perfect tea, how to hang wallpaper, and of course…how to walk in high heel shoes.

Marilyn Monroe's red calfskin pumps, designed by Herbert Levine of New York-Bata Shoe Museum
Well, needless to say though, I still prefer my comfortable flat shoes. But after seeing so many pairs of fun, fabulous, fashionable, funky, and fascinating footwear, and after reading a lot about shoes, I now understand why shoes have the power, the vanity, and the magic…
Sweet (and magical) Travels!
Photos and quotes credits:
Shoes Have It All…Power, Vanity, Magic – written by AnneMarie Dahlberg and Rebecka Enhörning
How to Walk in High Heels – The Girl's Guide to Everything – written by Camilla Morton