It was at the Browns Point Lighthouse that I discovered that I am a pharologist: "One who studies or is interested in lighthouses."
This lighthouse was also where I learned that "the first lighthouses were towers, built about 2,000 years ago: the Pharos at Alexandria in Egypt, and the Colossus at Rhodes, an island off Greece."
The Browns Point Lighthouse, a white concrete art-deco style structure, along with the Keepers' Cottage, and the location, make Browns Point Lighthouse a great place to visit for a day, or longer. At the entrance to Commencement Bay in Tacoma, Washington, the lighthouse and cottage are situated in a park, with a big grassy area available for picnics, and a sandy area for available for beach combing.
Built in 1903, the three-bedroom Keepers' Cottage is wonderfully furnished with period antiques from the early 1900's. There is even a cute little sitting area on the second floor. The cottage is available as a vacation rental, with the requirements that you conduct tours for visitors, and do daily, light chores.
Not only is the cottage located in a park, and decorated, there is also a garden with flowers and fruit trees surrounding the house. The first keeper of Browns Point Lighthouse, Oscar Brown, was a gardener, who grew apple, pear, and cherry trees, as well as colorful daffodils, tulips, peonies, and roses. Hollyhocks were blooming during our visit.
In the living room of the cottage is a piano. Oscar Brown was also an accomplished musician who played and taught the piano and the coronet.
In the basement of the cottage, a history museum features a 1900's kitchen area with a cast iron stove, showing what it would have been like for Annie Brown, Oscar's wife. (The kitchen in the main part of the cottage is modern.) The history museum also contains an area showing a one room school house, with desks that have holes for quill pens and ink wells, black slate boards, and a flag with only 48 stars. The museum also provides information about Jerry Meeker, a Puyallup Indian, who originally owned the land where the lighthouse was built.
The original lighthouse was a lens lantern on a post built in 1887. This was replaced by a wooden lighthouse in 1903, and then that was replaced in 1933 by the lighthouse seen today. It has been automated since 1963.
Perhaps someday the pharologist in me will want to rent the Keepers' Cottage.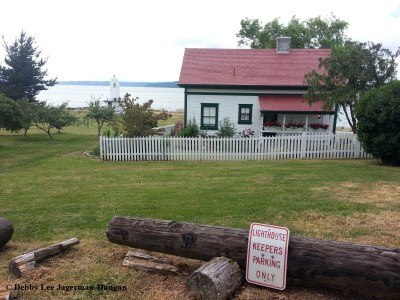 Sweet Travels!
Here is a link for more of my pharology-related blogs.
Some information obtained for this blog from the "Visitors Guide to Browns Point Lighthouse Park" brochure, and small a booklet for children, "Browns Point Lighthouse & Cottage Visit."
Lighthouse Friends: Browns Point Lighthouse