Last year for our wedding, I. Made. This. Brooch. Bouquet! It has an international flair. It has contributions from family and friends. It has my favorite flower, the sunflower. It has pieces representing important parts of our lives. It has symbols of love.
I came up with the concept of creating my own brooch bouquet when I was originally searching online on how to make my own flower bouquet. I came across a website that listed alternatives to the traditional flower bouquet, so my curiosity took me there. Especially because I was not doing everything traditional in our wedding anyway.
Some of the alternative bouquet options included feathers, peacock feathers, wooden flowers, button bouquets, fans, origami, shells, Christmas ornaments, umbrellas, pin-wheels, even candy. However, the one that really caught my attention, and got me excited right away, due to its beauty and uniqueness, was the brooch bouquet.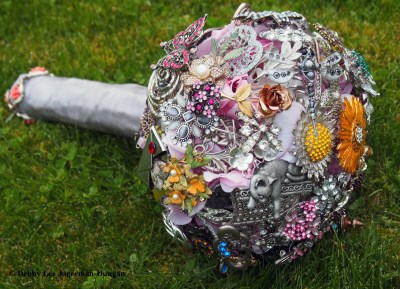 I began to research more about the brooch bouquet. I looked at gorgeous images online. I looked at websites that sell them. Then I thought, I wonder if I could make my own? Sure enough, there are video tutorials that teach you how to make your own brooch bouquet.
I sat on my couch one evening, and studied the videos. Yes, I can do this, I thought. First though, I must collect the brooches. You can buy some online at places that specifically sell brooches, but those looked too manufactured to me. I decided I wanted my brooches to be more unique. A few videos suggested buying brooches at thrift stores. Fortunately, I had several months before our wedding, so off to shopping I began!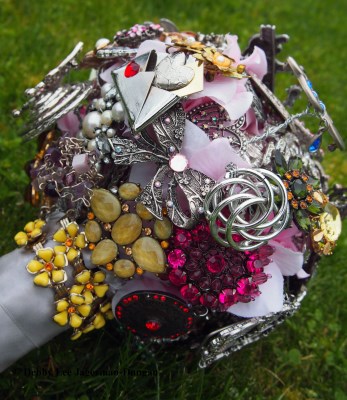 I started with thrift stores near our home and my work. I bought a few, and was excited with my beginning purchases. Then I remembered that some of the videos online, and other informational websites about brooch bouquets, said that to make one bouquet, you needed anywhere from 50 to 100 brooches. I must shop more!
I spent several weekends, and evenings, traveling to thrift stores. I think I hit just about every single one in the greater Seattle area, and beyond. From Everett to Kent, and from West Seattle to Issaquah. One weekend, I even drove to my dad's in Bellingham for a visit, so I hit the thrift stores on my way up there, as well as in that town, too. Another weekend I flew to San Francisco to visit my mom, my sisters, and my niece, so I hit some more thrift stores there as well. Basically, I covered it from Bellingham to Burien, and from Seattle to San Francisco.
I continued to buy a few brooches at thrift stores along the Oregon Coast during our pre-wedding travels. Then my family started buying me some – my mom got me a few brooches near her home in the Bay Area. My sister got me some more in the San Francisco area as well. In addition, a good friend gave me a couple more. I even bought a brooch at an antique store on my travels of walking the 42-mile road that encircles Île d'Orléans, near Québec City, Canada!
In all this shopping though, I had to come up with a theme for my brooch bouquet. I wasn't just buying any and every brooch I saw. I was thoughtful and methodical. My main theme was the color silver, to match my non-traditional lacey silvery-blue wedding dress. I expanded this theme however to also include colored brooches, flower brooches, butterfly brooches, heart-shaped brooches. Even a strawberry and a dragonfly made it into my growing collection of brooches.
I also bought brooches that represented something important and meaningful my husband's and my lives. We met Zydeco dancing, so I found an accordion to represent the Zydeco influence in our lives. I added a few cats because my husband has a love for animals. Sunflowers were included, in yellow and other various colors, because that is my favorite flower. There is also a special miniature "picture frame" brooch, to which I added four pictures of me and my husband doing some of the activities we enjoy – hiking and mountain bicycling. And, a lighthouse brooch bought from the gift shop at the Mukilteo Lighthouse, the location of our wedding ceremony.
I also decided to include an international flair in my brooch bouquet, because well, an important and meaningful part of my life is travel. Instead of finding international brooches at the thrift stores however, I realized that I could use items that I had already purchased during my travels. Therefore, I pulled out my jewelry, and other trinkets, and added them to my bouquet. A double-heart piece, with a yellow directional arrow, as well as a scallop shell bracelet hanging from the heart, all from my Camino de Santiago pilgrimage walk in northern Spain. A red charm from a necklace given to me by a woman in Cappadocia, Turkey. A pink beaded bracelet from Venice, Italy. A purple-beaded metal bracelet from an outdoor market in Brussels, Belgium. A prayer wheel from Bhutan.
I threw in a couple of "blue" brooches as well, to cover my "something old, something new, something borrowed, something blue." One is a cloud, with a few blue rain droplets from a thrift store. The other is a blue-stone on a ring from one of the Greek Islands. I even took this blue-stone ring and surrounded it by two "spoon rings" from Cambodia.
Needless to say, I did not do the traditional tossing of my international brooch bouquet at our wedding. I am keeping this creation as a symbol of not only our wedding, but of our lives.
Sweet Travels!
For blogs about my other bouquets, please visit my brooch and button bouquets category.