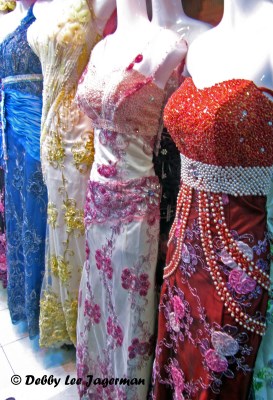 Visiting the Local Market in Phnom Penh is an experience in-and-of-itself. It is not like going to a grocery store back home. It is not like going to a department store or a mall back home. It is not even like going to a superstore. No, going to the Local Market is like going to every store, restaurant, and specialty shop imaginable and possible all in one place. One-stop shopping. Literally. With everything you need. Need some toothbrushes? You got it. Need some flashlights or car parts? You got it. Need some shoes or jewelry? You got it. Need some linens or clothes? You got it. Getting hungry from all that shopping? You got it. Need a wedding dress? You got it!
I'm getting married this summer. When we got engaged last year, I decided that I didn't want to wear a traditional white dress. I wanted to wear something different and non-traditional. So when I traveled to Cambodia several months ago, I thought it might be fun, unique, and different to come home with a wedding dress for the special occasion.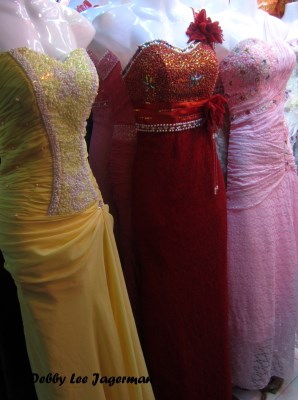 Upon arrival in Cambodia, I was fortunate enough to have my first guide be a female. I told her of my engagement, and I asked her if at some point during my travels could we please go shopping for a wedding dress. She was not only accommodating about my request, but she was also very enthusiastic.
On the second day of my tour my guide took me to the Local Market in Phnom Penh to shop for dresses. While I could have spent hours wandering around this market, we made a beeline right for the shop that sells some of the most beautiful dresses I have ever seen. All colors imaginable. There were so many dresses to choose from. While they had a few white dresses, I thought with all these colors, I could certainly find a dress that is definitely non-traditional for my wedding.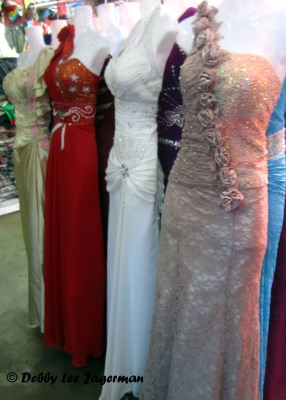 There were several dresses that I liked at first glance, and asked if I could try a few on. I did, right there, over my clothes. These first few didn't quite work out though. However, there was one dress in particular that I really, really liked, but it was too small for me to even try on over my clothes. I was told though, that they could make it bigger for me so that I could try it on if I would like that. Really? How? When? Wouldn't that take a while to make some alterations? I didn't have that much time in Cambodia.
Turns out they can do the alterations right there, in the sewing shop where the sewing machines were, a few aisles down and back in the Local Market from where we were. Of course, why didn't I think of that?! But first, and here is the "catch," we had to agree on a price of the dress because if I liked the dress after the alterations were made we all would know the price. Ok, so what is the price of the dress, I asked?
$60 was the asking price. What?!? Did I hear that right? $60? Only $60! You can barely find a wedding dress back at home for ten times that amount. Some women probably pay a hundred times that amount. I thought for that amount, sure, if I liked the dress that much after I tried it on, then for having this experience of buying a non-traditional wedding dress in Cambodia, it was worth every dollar. (Even if for some reason I ended up not wearing it at my wedding.)
Then the negotiating began. Not by me. By my guide. She told me that it was common to bargain, which I knew, but because she could speak to the shop owner in their language, I just stood and observed. $50 my guide offered to the shop owner. Apparently, she didn't go for that price. However, half way in the middle is $55, so there it was. Try on the dress, and if I like it, $55!
We walked back to the sewing machines, and I sat and watched this woman doing her magic on what could be my wedding dress to make it bigger. Then I tried it on. Yes, I liked it! It still didn't fit quite right though, so the woman made a few more minor adjustments on the sewing machine to make if fit better around my body. Another woman then sewed the shoulder straps, by hand, so they would be the right size to fit over my shoulders. As I was waiting for these alterations to be done, I found out that the dress was hand made, including all the bead work at the top, one bead at a time. How unique is that?!
I tried it on once more to make sure it was perfect. Well, it still wasn't quite perfect, but by this time, the entire market area was closing, and I decided that I could have more alterations done at home. So, voilà, my non-traditional wedding dress. For $55 where else can you walk into a Local Market, pick out a dress, and watch women alter it while you wait? While all around you, other local people are doing their own shopping as well.
To be honest with you though, when I got home, I tried the dress on again, and unfortunately something just was not right about it in how it looked on me. Even with further alterations done, I wasn't sure I would be completely happy wearing it. I decided to search for a different non-traditional dress to compare to the one I bought in Cambodia, and I have found a different dress that I am going to wear instead. Thus, my "almost" wedding dress from Cambodia.
I know you might think I'm crazy for not getting this beautiful dress altered and not wearing it at my wedding. In some ways I do feel like I should wear it, because it is quite unique, and especially with a story like this. To be honest though, the dress that I am going to wear is quite beautiful, and non-traditional, and fits me perfectly. Sorry, I can't quite include a picture of this dress in this blog because I don't want my fiancé to see it yet. Take my word for it please – both dresses are beautiful, and the one I am going to wear is perfect!
Oh, and later on during my travels in the country, I was able to go to a traditional Cambodian wedding. Albeit it was for about a half an hour, when some traditional Cambodian weddings actually take three days! I happen to have caught the bride and groom at a relaxing time. I'm sure that their shoes were just as elegant as they were.
Sweet (and non-traditional) Travels!