On Patos we picnicked a lot – on the beaches, in the woods, or across on Little Patos. Mamma knew just what to fix for a meal in the open – fresh baked bread, jam, fried chicken, pickled meats, baked beans with brown bread, cake, cold milk, and pickled fruits. Sometimes we walked to the picnic and sometimes we went in the boat. Once in a while, Al would take us to one of the other islands of the San Juan group. – Helene Glidden, The Light on the Island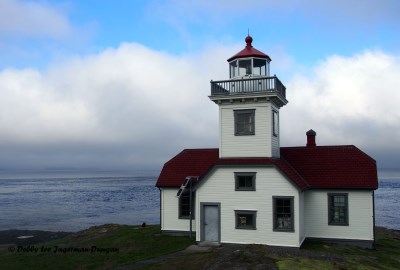 I have often wondered what it would be like to be a child growing up and living at a lighthouse, with your father being one of the lighthouse keepers, and your mother running the household. Especially in the late 19th or early 20th centuries. And especially on an island. So as part of our trip to the San Juan Islands with my husband back in October, we made it a point to visit five lighthouses of the San Juan Islands. I loved visiting all of them!
After spending a few days on San Juan Island itself first, visiting three  lighthouses (Burrows Island, Cattle Point, and Lime Kiln), and hiking, we boarded a ferry with our car and headed to Orcas Island for another few days. From here, we would visit Patos Island Lighthouse and Turn Point Lighthouse on Stuart Island. To get to these smaller islands, we needed to charter a boat, which I arranged before we left on our trip. I organized the excursion with Outer Island Expeditions to visit both lighthouses on the same day. Because of the time of year, Outer Island Expeditions preferred to have four people on the trip, so I recruited two family members to join us for that day. Meeting early in the morning on a Friday, my husband, my family, and I departed from Eastsound on Orcas Island and headed to Patos Island first, located five miles northwest of Orcas Island, and the northernmost of the San Juan Islands. Very fun!
Patos Island Lighthouse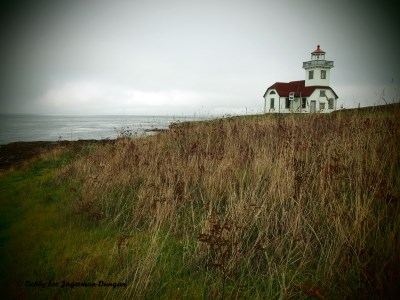 The early inhabitants of Patos Island, the Native American tribe the Lummi, originally named the island "Klu-whit-eton," which means "abundant native oyster." In 1792, two Spanish explorers, Galliano and Valdez, named the island "Isla de Patos," which in Spanish means Island of Ducks. They named this "due to either a rock formation on the eastern end of the island that resembles the head of a duck or to the numerous ducks found on the island."
In 1893, the island came under the control of the United States, and the first light station was established. The island's third lightkeeper, from 1905 to 1913, was Edward Durgan, along with his wife and their 13 children. One of their children, Helene Glidden, wrote a memoir of her childhood, and her life growing up on Patos Island, entitled "The Light on the Island, Tales of a Lighthouse Keeper's Family in the San Juan Islands." Sometimes joyous, fun, and full of picnics, other times difficult, challenging, and heartbreaking, this fictionalized account of Ms. Glidden's life gave me some insight into my wonderment of what it might have been like to grow up at a lighthouse on an island.
The Patos Island Lighthouse was automated in 1974. Today the lighthouse is part of the Patos Island State Park, which has a hiking trail, is open to boaters, and has camping and pit toilets. I read Ms. Glidden's book after our trip to the lighthouse, and would like to go back again someday, because now I know more about the lighthouse and the island itself.
Turn Point Lighthouse, Stuart Island
After spending about an hour on Patos Island, we headed towards Stuart Island on our chartered boat. Stuart Island is located in the northwest part of the San Juan Islands, about eight miles east of Vancouver Island, Canada. Located on the northwestern corner of Stuart Island, we visited the Turn Point Lighthouse for a few hours. Because of the time of year we visited, the inside of the lightkeeper's house was not open for tours, but I must get back here to get inside this grand-looking two-story duplex home. As I have learned from visiting several lighthouses, one side of these homes was for the lightkeeper and his family, and the other side was for the assistant lightkeeper and his family.
The Turn Point Lighthouse was built in 1893, and began its operation in November of that year. In 1895, before becoming the lightkeeper at Patos Island, Edward Durgan was the lightkeeper of Turn Point, although Ms. Glidden was not yet born. Turn Point was automated in 1974, and the lightkeeper's house has more recently been used by researchers from the University of Washington to study whale migration. Today, the light of Turn Point Lighthouse flashes white every two-and-a-half seconds, and is part of Stuart Island State Park.
Did you know that according to the Lighthouse Directory from the University of North Carolina at Chapel Hill there are apparently more than 17,200 lighthouses in the world? Oh, how I would love to visit them all. For now, the five lighthouses of the San Juan Islands, along with two on the Washington Coast, ten on the Oregon Coast, and a few that I have not yet written about, including one that my now-husband and I recently got married at!, are part of my growing list of lighthouses that I have visited.
Sweet Travels!
For more about the San Juan Islands, and visiting five lighthouses of the San Juan Islands, please see my San Juan Islands and Lighthouses categories. There is also my Oregon Coast category.
Some information on these two lighthouses obtained from:
Lighthouse Friends – Turn Point
Turn Point Lighthouse Preservation Society