I was greeted by these two signs within moments of my arrival in Bhutan, one right when I stepped off the plane, and the other just outside the airport. During my 25 day journey through Bhutan I would be greeted by many more signs. Signs of friendly reminders; signs of safety; signs of health and vision; fun and happy signs; signs we should all live by. Signs that made me laugh; signs that made me smile; and signs that made me think.
I appreciated this sign right on a garbage can as I hiked up a trail to a monastery. A few other garbage cans along they way also kindly requested that we use them saying, "Preserve the Nature for Our Future Generations," "I Love Clean," and "Nature is Home 4 All."
When driving on Bhutan's very-curvy-wider-than-one-lane-but-not-quite-two-lane main road that goes across the country a caution sign says, "Blind curve. Drive slow." Around the other side of the corner, a sign then says a courteous, "THANKS." When crossing a single lane bridge a sign asks you to please drive "FRIENDLY." When you arrive safely on the other side of the bridge, you are also given a courteous, "THANK YOU."
At the top of mountain passes signs such as this inform you where you at, and at what altitude. This one is around 13,000 feet.
To discourage drinking and driving signs advise, "For safe arriving, no drinking when driving." And "After whiskey, driving risky." Occasionally some road construction may invoke this sign, of which a few were helpful during my journey:
Important announcements about water and the environment are also stated in signs. "All lives need water. Conserve it for healthy living." And "Environment message: If we continue to pollute and degrade the environment, the clean water that we drink and the forest resources that we depend on, shall no longer be available in future."
In central Bhutan, the town of Jakar is about half way between the capital city Thimphu in the west, and a key town in eastern Bhutan, Trashigang.
I encountered more than one sign with messages promoting health and monogamy, such as "One life long partner could save your life."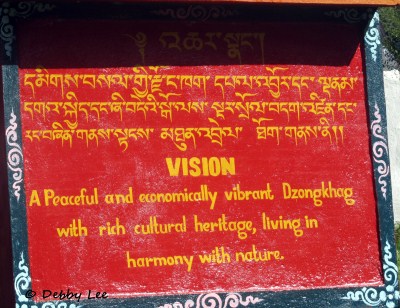 There are 20 Dzongkhags in Bhutan, administrative and judicial districts. Each of them most likely has their own vision. Here are two, written in both Dzongkha, the national language, and English.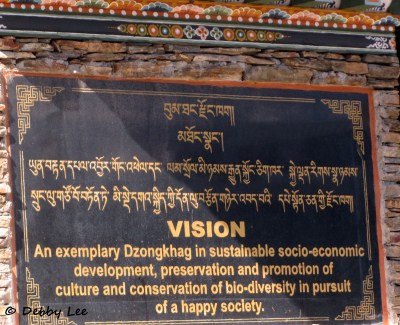 Due to the Royal Wedding that took place in October when I was in Bhutan, there were lots and lots of thoughtful signs wishing the Royal Couple longevity, serenity, and love, as well as other sentiments. "We would like to wish you a long, blissful, and happy married life." "Union of the two heavenly hearts for the nations present and future."  "Our happiness has multiplied hundred folds on this rare union of hearts." "May the Gods shower their most precious blessings on their majesties." This sign, which was at the airport as I was leaving Bhutan, includes the photo of the King and Queen which was displayed practically everywhere.
A favorite sign of mine, which I unfortunately did not take a picture of, reminds us that:
"LIFE IS A JOURNEY. COMPLETE IT."
And something we all should strive for:
Sweet Travels!