Deep in the middle of the country of Turkey, a 14-hour bus ride from Istanbul, exists a landscape unlike any other. Strangely unique and bizarrely beautiful. A consequence of a volcanic eruption from three to nine million years ago, along with erosion over tens of thousands of years. Resulting in pillar and minaret-like formations. A landscape unlike any other.
It is an area known as Cappadocia, the translation of which is "Land of the Beautiful Horses." I spent two days exploring there. I was in awe at rock formations called Fairy Chimneys; at the geology of basalt and a variety of limestone called tufa; at underground cities; at rock-carved homes, chapels, churches, and monasteries; at frescoes inside dating from the 9th to the 11th centuries. This is land with historical, cultural, and religious significance.
Here are some photos of the area, starting with Fairy Chimneys and other rock formations.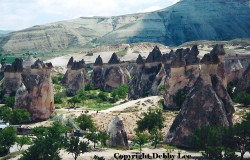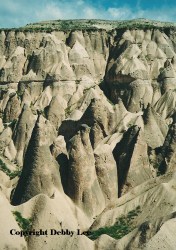 An area called Monk's Village included homes of monks and churches. Pictures are of a home, where you can see a window in the middle of the triangular-shaped rock formation, a sleeping area inside the home, and a frescoe from inside a church.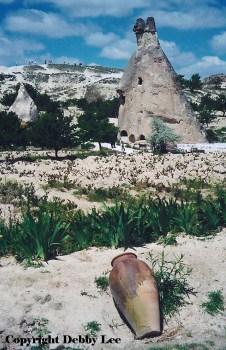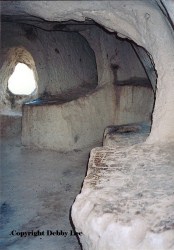 I walked several hours through an area called Rose Valley. There were even small wild flowers growing around. More religious frescoes that were inside another church, called Hacli Church.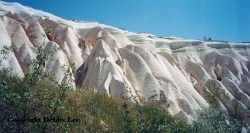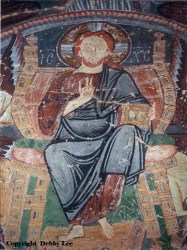 Stopping for view, see the people taking a snack break below, and a trail in the distance.
Kaymakli is one of several underground cities. I was able to walk through six of the nine floors of this city. People lived here thousands of years ago and would hide here to escape the enemy (from religious persecution, I believe). They had everything in there: bedrooms, kitchens, bathrooms, wine cellars, food storage areas, etc. It is said that they may have spent a month in these cities at a time. The photo is of me inside one of the rooms.
Another view point where you can see many, many homes built in the rocks of the landscape. And pottery for sale. (And me.)
Other areas visited during my time in Cappadocia included the Goreme Open Air Museum, a town called Avanos, Uchisar Castle, and Cavusin Mosque.
Strangely unique and bizarrely beautiful indeed, this Land of the Beautiful Horses!
Sweet Travels!
Links to other blogs that I have written about Turkey: