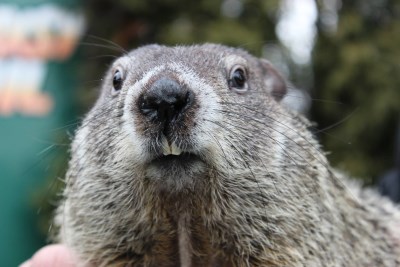 My birthday is, well, Groundhog's Day!! It has been every year for forty-something years. I love having been born on this day. Sure I could have been born on some other holiday, like New Year's Day, the Fourth of July, Thanksgiving, Halloween, or even Valentine's Day. But being born on Groundhog's Day is totally fun! I mean every morning on my birthday I wake up, go outside, look for my shadow, and predict the weather. Well ok, I really leave that up to the groundhog, the world's most famous weatherman, Punxsutawney Phil himself. But I always like to hope each and every year for an early spring!
And yes, I've seen the movie "Groundhog Day" with Bill Murray, Andie McDowell, and Chris Elliott. Well I mean the three of them and I have not watched it in my living room together, but I have seen the movie. A few times. In fact, I own the movie. I received it once as birthday gift.
This year I decided to become an official member of Phil's Birthday Club! In the mail I received the story of "The Legend of Groundhog Day," a membership card, a postcard picture of Punxsutawney Phil, and my Certificate of Membership, personally autographed by Mr. Phil himself (with his paw print)! I think I might even be getting a birthday card from him!
I also figured that once in my lifetime, I need to travel to Punxsutawney, PA, the place where Mr. Phil, the Seer of Seers, the Prognosticator of Prognosticators, makes his weather prediction. At approximately 7:25 in the morning of February 2nd, 2014, the groundhog will either see his shadow or not. I hope he does not, for that means spring will arrive early.
The weekend in Punxsutawney will be filled with so many more fun things to do and see, in addition to the weather report. It's a festival to celebrate the groundhog, the weather, and all things fun. There is Punxsy Museum, and a Weather Discovery Center. On display are all kinds of arts and crafts, including ice sculptures, and for purchase are souvenirs all groundhog related. The Groundhog Club Headquarters hosts historic memorabilia and everything Punxsutawney Phil. There are plenty of food vendors, and food-related activities, including groundhog cookie decorating, producing groundhog themed cupcakes, and making s'mores. You can take a walking tour and a hayride of the town. Entertainment includes live music, dances, and a Groundhog Ball. Even a Little Mr. and Miss Groundhog are crowned, and of course they show the movie "Groundhog Day," a few times.
The night before Phil's weather prediction, you can bring your sleeping bags for a short nap, before waking up in the wee hours of the morning to make your way to Gobbler's Knob, the location of the weather forecast. After we know whether there is an early spring or six more weeks of winter, many opportunities for a good breakfast are to be found. Later that day, there will even be a Phil's Birthday Party, where I and all the others who were fortunate enough to be born on February 2nd (with valid proof) will receive cake and a gift.
Now maybe I can't predict the weather, but I can predict that my husband, whose birthday is two days before mine, and I will have a very fun time in Punxsutawney, PA.
Sweet Travels!
Photo of Punxsutawney Phil from his Facebook page.
For more information on all of this, visit Groundhog.org.
For more blogs on Groundhog's Day please visit my Punxsutawney-Groundhogs' Day category.