"The "other" Gobbler's Knob? What? What do you mean?" you ask. "I thought there was only one Gobbler's Knob. The one two miles east of the town of Punxsutawney, Pennsylvania. You know, the one where each year on February 2nd, Punxsutawney Phil, the famous groundhog, 'the Seer of Seers, the Sage of Sages, the Prognosticator of Prognosticators, the Weather Prophet Extraordinaire,' makes his weather prediction from Gobbler's Knob. The place from where, since 1887, Phil has told us whether there will be six more weeks of winter, or if spring is just around the corner. The one at about 1,620 feet elevation. The one where you climb up the roads of Punxsutawney approximately 394 feet from the town to get there. You mean there is another Gobbler's Knob?"
Well, actually, yes, there is another one.  Located on the other side of the country. In the state of Washington, at Mount Rainier National Park, at an elevation of 5,485 feet. A place where on a clear day, you get the perfect views of Mount Rainier, the Tahoma Glacier, a few alpine lakes, and the forests of trees beyond in all directions. There is even a fire lookout built in 1933 at this Gobblers Knob, one that was historically used by firewatchers to spot and report smoke and lightning strikes in the area. Occasionally still used today, this fire lookout is one of four remaining at Mount Rainier. On a really clear day, from this Gobblers Knob, you can also see the peaks of Mount St. Helens, Mount Hood, Mount Adams, and the Olympic Mountains.
What is extra special about this "other" Gobblers Knob is that Punxsutawney Phil has actually been there! Well, ok, maybe not the actual Phil, but his picture sure has. He climbed the 1,195 feet of elevation with me in my backpack from Lake George below, up the one and a half miles to reach this spot. Well, actually we climbed 1,585 feet of elevation gain from where we parked our car, and five miles from the car.
"And why would you bring a picture of Phil to the "other" Gobblers Knob?" you ask. Well, there is a "Worldwide Adventures of Phil" photography contest that I am entering in, and this is just one of the several places that I have taken Phil with me this year on my travels that I will enter into the contest. "And why would you do such a thing?" you ask. Well, because my birthday is on…Groundhog's Day. Even this past February, my husband and I went to the Gobbler's Knob in Pennsylvania to see the grand event. So when my husband and I decided to do a backpacking trip this August, for our one year wedding anniversary, we chose to go to Lake George, the perfect launching place for a trip up to the "other" Gobblers Knob, and to bring Phil along. Phil has been on a backpacking trip!
"And where else have you taken Phil this year?" you ask. To our 12-day walking travels in the Cotswolds area of England, followed by a few days in London, and to the restoration project we are involved in at the Burrow's Island Lighthouse. I will be entering photos of Phil at these places as well. Wish me luck.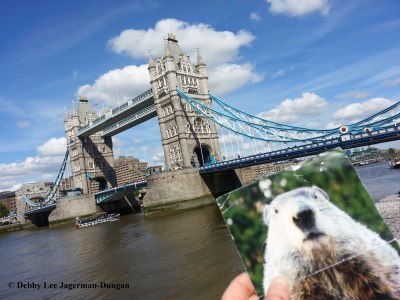 "Oh, and did you know that 'marmot' is another name for a 'groundhog'?" I ask. My husband and I happened to see a couple of cute juvenile marmots playing at Mt. Rainier as well. And Phil saw them too!
And get this…There are a few "other other" Gobblers Knobs in the United States that I discovered as I was preparing this blog. At 10,246 feet there is a mountain near Salt Lake City, Utah in the Wasatch Mountains called Gobblers Knob. In Alaska, there is a 3,018 foot mountain peak near milepost 132 on the Dalton Highway named Gobblers Knob. One in the San Bernardino National Forest in California at 6,955 feet. One in the Crater Lake area in Oregon at 3,459 feet. There are even a couple of Gobblers Knobs in Colorado, and one in Mississippi.* Looks like we will need to take Punxsutawney Phil on a few more adventures!
Sweet Travels!
*Most information about the various Gobblers Knobs from Peakbagger-Gobblers Knob.