No, I'm not a mountain climber. Although I have taken a climbing class, but put a rope on me with some possibility of slipping, and forget it.
I do, however, love to hike. Give me a trail on a warm, sunny summer day, with wildflowers and trees and mountains as my scenery, and I'm in heaven. Add in my boyfriend, some berries to pick and eat along the way, the spotting a critter of some sort, and you have described one of my perfect days. Oh, and if there happens to be a lake or a stream, now you're talking!
I try to incorporate getting into the outdoors when I travel. Sometimes, I may do some other adventurous activity depending on where I am, but hiking is a favorite.
On a very recent trip I just took to Alaska with my sister, we visited Denali National Park. We were lucky, as the weather that day was in the 80's. There was however, a bit of haze in the air from wildfires around the state, which unfortunately made views of the actual mountain itself a bit unclear. But the surrounding landscape that we were in was just beautiful!
We went on a hike together. The first time that I have been hiking with my sister. We chose a short hike, one with a trail that paralleled a river. In the middle of the hike, we stopped in a grassy area for a rest…just "to chill," as my sister says. We had a snack, took in the views, contemplated life…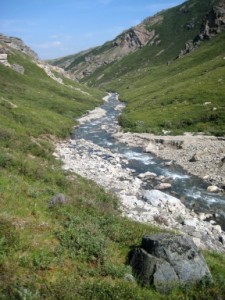 It was a perfect hike for us.
I have been to Denali National Park once before, and went on a couple of ranger-guided hikes there deeper into the park than where my sister and I were. During that trip, I was very lucky, and had fabulous views of the mountain itself two of the three days that I was there.
Now that I am back home in the Seattle area, I have my next travel plans all ready to go. In less than a week, I shall be backpacking with a friend, hiking about 30 miles of the Wonderland Trail, part way around Mt. Rainier. This majestic mountain is one of my favorite places on this planet!
While some people take about ten days to do the entire 90 miles around Mt. Rainier, we are going to take our time so that we may completely enjoy the scenery, have time to eat, take photos, and not be in a rush…we are going "to chill."
Sweet Travels!
All photos by Debby