I absolutely loved all of the scenic towns in Italy during my five-month European travels. But one struck me as not only scenic, but also cute. Yes, cute! A very small town. It can't be more that two square miles in size, and it has a population of only about 15 year round. (Although during the busy summer months, it can increase to around 100.)
At 1,440 feet above sea level, perched on a hilltop, the town sits on volcanic plateau overlooking a river valley. And while it is in danger of the edges eroding away, the several hundred year-old architecture, the quaint narrow streets, and the constant decorative flowers, make this town really cute.
To get to Civita di Bagnoregio, one needs to get to the town of Bagnoregio first…
Saturday, June 26, 2004
My destination for today was a really tiny town, one that I read about before I left for Europe, and knew that I had to go experience. I picked up some fruit and pastries on my way to the bus stop this morning, got my bus tickets, ate my breakfast, and was on the bus by 9:10am.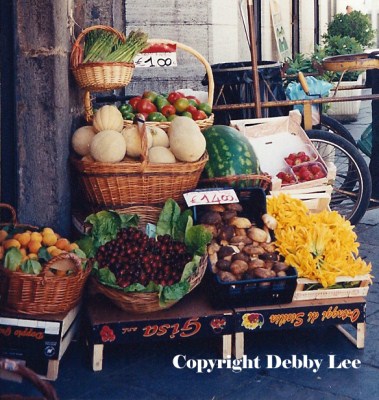 It was about an hour bus ride from Orvieto to Bagnoregio, the town that leads to my destination. More of that beautiful Italian countryside was seen from window of the bus. One photographic sight during this ride was rows of green grapevines each ending with a splash of red roses. And, I saw a field of bright yellow sunflowers, too!
After getting off the bus in Bagnoregio, I went into the first church I wandered by, as I seem to have been doing a lot during my travels thus far. A small simple church. I sat and contemplated for a few moments, as I seem to always to when I go inside a church.
And then I set out for my destination. I walked down a long street in Bagnoregio that leads to a bridge, which then connects with Civita di Bagnoregio. A pedestrian only bridge. And no cars in Civita.
I'm sure that one could just walk the main street of Civita from one end of town to the other end in only five minutes. But I decided to wander all the narrow side streets instead first, and then took the main street on my way back. Each side street ended technically pretty quickly, but I took my time going down each one, noticing the traditional brown-colored Italian buildings as I meandered, and finally seeing the breathtaking views beyond the edge of Civita at the end of most of the side streets.
Other side streets ended up in someone's garden.
As I admired the gardens, I also noticed the flowers used as decorations on the buildings, and began to take a series of pictures of the flowers of Civita di Bagnoregio. I stopped to smell some of the flowers as well.
I also went into a church, some shops, and even found a path below the town to hike on so that I could look up at Civita from below the edge.
It turned out that the five minutes that it could take to walk the entire town of Civita turned out to be several hours and five minutes for me.
Sweet Travels!