Train strikes can occur in Italy. One happened when I was there, but fortunately, it didn't mess up my travel plans too much. I just decided to change my schedule to accommodate the strike.
Another time, however, a mere 20-minute delay in one train caused me to miss my next train, and thus I literally had to spend the night in a tiny office of an Italian train station. Something that most tourists probably don't get to do, and most likely, aren't really allowed to do.
Here are my journal entries as I stayed up one night in the tiny train office…
Tuesday July 27, 2004 – 11:00pm:
I'm sitting here in a Trenitalia office in Falconara at 11pm. I missed my train connection because my previous train was 20 minutes late. Only 20 minutes, but that was all it took!
I was originally coming from Padova, had a connecting train in Bologna, and then I was supposed to have another connecting train here in Falconara. From here, I am supposed to be on my way to Fabriano, and my ultimate destination, Genga.
The mishap began in Bologna, where the train left 15 minutes late. I was expecting that the train would make up time somehow, but alas it lost five more minutes while en route. I read a bit on the train, looked out the window, and saw a couple of gorgeous sunflower fields, still hoping that somehow I would make my connection in Falconara.
But the train did arrive 20 minutes late, and I knew that I had missed my next train. I looked at the train schedules on the wall, and it looked like the next train to Fabriano would not be till 3:46am! Was I reading that right? What would I do? At first, I really did not know what to do. It was after 10pm. This was the first time that something like this happened to me.
I actually stood around for a while thinking, or not thinking, or trying to think. I guess I was a bit shaken up, but not too bad. I felt like it was too dark and too late for me to wander around trying to find a hostel or some place to stay. I suppose I could just stay right where I was in the train station for several hours, but it was a bit cool outside, and I would have preferred to stay warm.
I finally asked a train station attendant about the train schedules to confirm what I saw on the wall. He agreed that my next train to Fabriano would not be till 3:46am.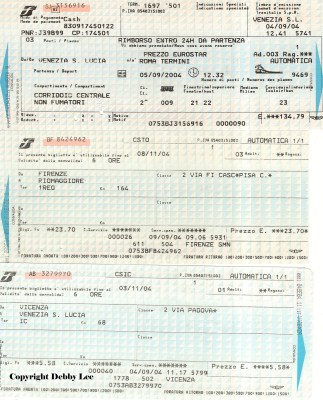 Italian Train Tickets
After a bit of pondering again, I noticed that there was a train station office, thinking that would be a nice option to stay in. I actually got up the nerve to ask the attendant if I could please wait in the office. He spoke English well enough that I could explain to him my dilemma and he understood…and so here I am!
Wednesday July 28, 2004 – 12:45am:
It is now12:45am on Wednesday, and I am still in the Falconara train station office waiting for my train, in three more hours and one minute. I feel like I'm in a zone of some sort. I haven't slept yet, and I don't feel like sleeping, but I'm not quite sure that I am actually here, writing in my journal to pass the time. Seems very strange. I mean, I know I'm here, but I guess when you don't sleep much, and feel a bit out of sorts, then it feels surreal.
The gentleman who allowed me to stay in the train station office went home a while ago, so two other kind gentlemen who work in this office are keeping me company. Or am I keeping them company? They are working, as I am writing in my journal, catching up on a few days' events. These two men even set up a little bed for me to sleep on.
Wednesday July 28, 2004 – 1:40am:
The two gentlemen have been very nice. In between my journal writing, with their little English, and my little Italian, we actually have communicated some. We have shared about each others jobs; they have been interested in my journal writing; I told them I took an Italian language class before I began my Europe travels; we talked a bit about the U.S. and a little about politics; and I told them of some the places I've been during my travels thus far in Europe. They asked if I had any children, etc.

An Important Italian Train Sign
Wednesday July 28, 2004 – 3:26am:
In 20 minutes my train from Falconara will take me to Fabriano. I did finally lie down on the bed that the gentlemen made for me in their office and slept for just over an hour. Better than nothing. The bed was really a cushioned board that they had hidden behind some cabinets, which they put across the seats of two chairs. There was some cushioned thing for a pillow. And they gave me some paper towels to put on top of this pillow for protection. Pretty funny actually. But thoughtful. They must sleep here when it gets late for them. So can you say that you slept in a Trenitalia office? I can.
Wednesday July 28, 2004 – 4:45am:
Ok – It is now 4:45am, I made it to Fabriano, and in 20 minutes the next train will take me to Genga.
Wednesday July 28, 2004 – Later That Evening:
I got to Genga at about 5:30 this morning. I took a really nice crisp, brisk walk from the train station to Kelly's house, with the sun starting to brighten the day, and the birds chirping. It was a good way to start the morning. Well, continue my morning, really.
But being awake didn't last long. Shortly after I arrived at Kelly's, I fell asleep. I slept till about 9:30am.
I am grateful for the gentlemen in the Falconara train station. Their hospitality made my 20-minute late-train mishap not so bad at all!
Sweet Travels!