As I approached the middle of my journey on the island of Santorini, with the glorious 80 degree weather still apparent; still outfitted with a hat, sunscreen, and sunglasses; still carrying a water bottle that had been refilled several times, although the snacks that I had were gone; my camera fortunately still working; and although my supply of film was dwindling, I still had plenty left, I found myself on what I called the "summits of Santorini."
Two hills, strewn with wildflowers and spectacular views. I felt like this was the "hiking" part of my walk as not only did some of the paved and cobblestoned roads that I had been walking on turn into a rocky trail, but also, I had reached the highest vantage points of my day. From here, I was able to see the curvature of the island of Santorini; I could look back at where I had been, Fira; and I could see ahead to where I was going, Oia, my destination by sunset.

a "summit" marker; where I had been, and where I was going

wildflowers, spectacular views, and the curvature of the island

churches on the hillsides near the summits
A couple of times throughout my day, especially because those snacks I had with me had been eaten, I stopped to dine on some local Greek food to sustain me. Yum! There is nothing like the combination of eating the local food while looking at local scenery of this beautiful island!
After most of my day had passed, I arrived at the town of Oia, almost attaining my goal of reaching my final destination by sunset. I wandered slowly through the town, glancing into several shops to see what the locals were selling. There were many souvenir shops, some music shops, and lots of art shops. It was these local art shops that I found to be fabulous.
The theme of the wonderful artwork that I was looking at was mostly the same – the amazing scenes of Santorini with the whitewashed homes; the blue splashes of color of the church domes, the seas, and the skies; along with the occasional pastel colors of some buildings. But the mediums used to create the artwork, as well as the artistic styles, varied widely, from paintings of watercolors or oils, to postcards, to sculptures. The diversity of this artwork was just as beautiful as the scenery itself!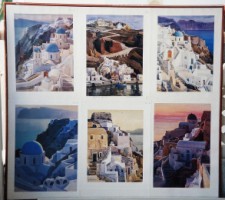 samples of the diversity of Santorini artwork
One of my favorite mediums for the Santorini scenes were paintings that were actually made out of pieces of earth, including the volcanic rock that the island itself is made of. These paintings looked three-dimensional, and really impressed me, with their earthy tones and depth. I called this local "earth art."

local "earth art"
During my meandering around Oia, ironically, I then came across this building that looked to me like this "earth art" that I had just seen in the local shops. I took my own "artistic" picture for comparison.

my "earth art"
Earlier in my day, I even had a wonderful opportunity to stop and watch an artist at work creating his paintings of the very towns that I had been walking through. Such expertise and concentration!

artist at work
Please read my final blog for more about my Santorini journey, including more photos, as I finally reach my destination by sunset.
Sweet Travels!
All photos taken by Debby.