There are 10 essentials that one should carry while hiking or backpacking: sunglasses/sunscreen, and headlamp with extra batteries. map and compass. extra food/water and extra clothes. first aid kit and pocket knife. fire starter and waterproof matches.
Then there are other necessities: water purification system and emergency shelter. repair kits and insect repellant. signaling devices and sleeping bags.
Of course, there are your hiking boots and tent. And rain gear and even toilet paper.
During my recent backpacking trip of "the other two-thirds" of the Wonderland Trail around Mt. Rainier, I had all of the above items…and then some…
In the pockets of my zip-type-convertible-pants-into-shorts, I carried three of my own "essentials." The right pocket contained my all-important camera. It lived there the entire trip. An awesome new compact digital camera with 14.1 mega pixels and 14x optical zoom. With this camera, I took well over 1,000 photos of the fabulous scenery!
My left pocket contained my SPF 30 chapstick. Definitely well used because we were truly blessed with sunny and quite warm weather most of the days we were out there.
And then for the first four days, my left pocket also carried a bug net to pull over my head. In addition to insect repellant, I wore the bug net at times for extra protection.
Fortunately, the bugs eventually went away, so I was left with my two essentials in my pockets, which then sometimes also contained other various items as the days went on.
We had an awesome backpacking trip this year. Very, very little rain, warm sunny days, and even mostly warm nights. We met some interesting people, saw some wildlife, the wildflowers in many places were still in bloom, and Mt. Rainier itself was visible every day.
The pictures in this blog were while sitting in a flower-filled area called Spray Park. The first picture is as it was – a "normal' picture. For the second and third pictures, I was playing with a settings on my camera. First, there was a "color swap" button, where the camera chooses particular colors to change. And second, "color accent," where the camera selects one color (green, in this case), and then makes everything else black and white. And the last picture, another "normal" picture, was one of the very few times on the entire trip where a light cloud cover blew in and completely blocked out Mt. Rainier (but only momentarily).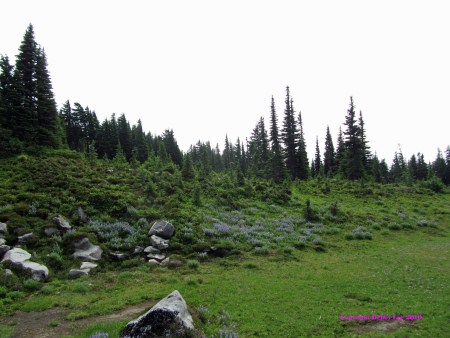 The 10 essentials are certainly very important while out in the wilderness, but so are some personal items that one finds necessary and quite useful to take along.
Sweet Travels!