"Come out and help restore Burrows Island Lighthouse this summer! We're gearing up to make huge strides this season and we have projects for every skill level, from beginner to master carpenter, [from] novice tasks [to] advanced tasks."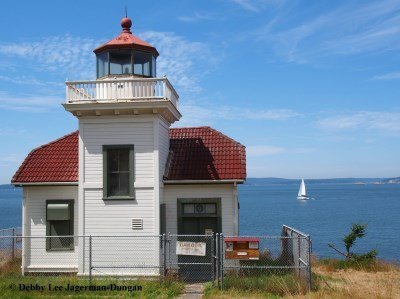 I emailed Kitty McKoon-Hennick, of the Northwest Schooner Society, and the woman behind the restoration of Burrows Island Lighthouse, and asked if I could sign up to volunteer as a beginner/novice, as I don't have any carpenter or contracting experience. She basically responded, "No worries. Perfect opportunity for some skill-building."
So for two weekends this summer I volunteered to help restore the Lighthouse, the Keepers' Quarters, and the Boat House of Burrows Island. I brought along my work gloves, a few tools, and my attitude that I was going to learn something new, and do something useful.
My first task…well this was not that new for me, but definitely helpful – tearing out blackberry bushes and other invasive plants. This actually required two pairs of work gloves to protect my hands from those nasty thorns. Throughout the two weekends, I basically did some yard work.
Then for my new skill-building…putting up tar paper and insulation on a wall that would become a bathroom in the Boat House. Cutting and stapling and fitting the pieces. Kind of like a puzzle. Climbing a ladder to reach the high parts near the ceiling. Thinking how cool this was that I was making a place warm. That was the first weekend I volunteered. By the time I went back, a composting toilet was installed in the area I insulated, so what I did was being put to good use.
I have painted before in my life, so my next task wasn't total skill-building, but what made the painting I did great fun was using the same green color paint that had been used to paint the window frames over 100 years ago, as the Burrows Island Lighthouse and Keepers' Quarters were built back in 1906. (Well, I know it wasn't the same exact can of paint used, but it is the same color.) Before I painted, I needed to prime some of the window frames as well. What I also loved about this job was the scenery. I was on the deck of the Boat House overlooking the water of Rosario Strait, the hillside of Burrows Island, and the islands beyond. Listening to the small waves roll in, hearing the boats go by, and eavesdropping in on the sounds of birds. What a relaxing way to do some painting.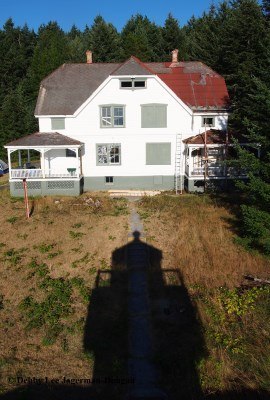 I also carried some wood from one area to another so that the advanced carpenters could start rebuilding part of a roof that was rotting. I helped tear out a few old floor tiles and wall coverings (more skill-building). And I took pictures.
With the help of my husband, we took down an old information sign about the lighthouse, and put up a new one. My husband did tasks like mowing the grass, lots of invasive plant removal, unloading and carrying supplies and tools, and some exploring for creating a new trail up the hillside behind the lighthouse. One of the weekends, one of my sisters joined us to help out as well, and to learn some skill-building herself.
I love lighthouses, so much so, that I have been known to travel just to see lighthouses, and I even got married at one. And by doing this volunteering, it is a fantastic way for me to get more up close and personal with these buildings and lifestyles that so intrigue me. Also, being able to camp out next to the buildings on an island under the two full moons we had this summer put the icing on the cake to my skill-building weekends at the Burrows Island Lighthouse.
Sweet Travels!
If you are interested in volunteering to help restore the Burrows Island Lighthouse, whether a novice or an expert, please contact Kitty McKoon-Hennick at kitty@nwschooner.com. (Tell her Debby sent you!)
Here is a link for more information as well: Burrows Island Lighthouse-Northwest Schooner Society
For more of my blogs on lighthouses, please visit my lighthouse category.