In addition to the international brooch bouquet that I made for myself for our wedding, I also made three more. Two for my sisters (my bridesmaids), and one for my niece (my flower girl). I am almost a bit more proud of making these three bouquets than of mine, because I was very thoughtful and loving in the choosing the brooches to include in them.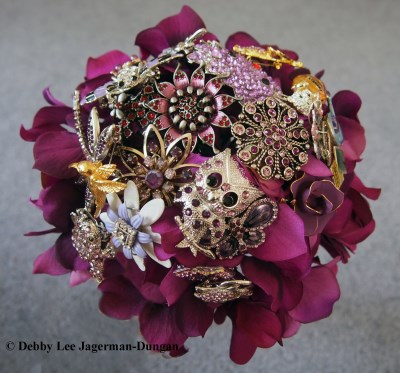 My niece's favorite color is purple. At 3-1/2 years old at the time of our wedding, I wanted her bouquet to be something she will love, so I started with a few purple brooches – a couple of flowers. However, I wanted something more for her bouquet, something that she could relate to. So I found some – an elephant, a kangaroo, a kitty, a Hello Kitty, a butterfly, a dragonfly, a ladybug, and a basket that opens up. A bear in a jar of honey, a hummingbird, a bee, an owl, a frog, a heart, and a t-shirt with a heart on it. A basket of flowers with seed packets, a watering can, and a tiny ladybug. Most of them purple, and all arranged in a purple hydrangea. I felt that she could relate to, and love, all of these! And I was right, because I noticed her studying the bouquet at our wedding, as if in awe at all these cool things!
A variety of colorful flowers, mostly made of ceramics and being three-dimensional, was the theme for one of my sister's bouquets. Each feminine and beautiful flower brooch that I chose to include in the bouquet, set in a pink hydrangea, reflected my sister's femininity and beauty. I thought that having one special theme of all flower brooches throughout this bouquet would make it dainty and unique. Except for one extra special brooch that I put in this sister's bouquet – a locket. In the locket I put two pictures of my niece (my flower girl) in there, my sister's daughter. I thought that was a loving touch!
My other sister's bouquet, also set in a pink hydrangea, was made of several matching sets of brooches and earrings, the majority of them being various white and gold colored flowers, with splashes of red and orange. I thought that this arrangement would reflect my sister's artistic and fun side. The extra special brooches in this bouquet are of water lilies. When I found these, I loved them because they remind me of my travels to Buddhist countries, Cambodia and Bhutan, and this sister also likes to travel. I even saw a photo of a brooch bouquet made entirely out of these water lilies, and I loved it. I was more than happy to include them in this sister's bouquet!
So there you have it, four brooch bouquets (including mine)! All made with love! All having meaning behind them, and throughout them! Whether it be mine with my international touch, or my niece's with frogs and ladybugs. Or my sisters' brooch bouquets, with flowers, special lockets, and water lilies.
And who knows, maybe someday my niece will want to use my bouquet for her wedding, and she can let her flower girl use hers.
Sweet Travels!
For all my blogs about my bouquets, please visit my brooch and button bouquets category.