Continuing on with my series of blogs on "quirky" museums, there is one such museum that was unfortunately closed on the day I went to visit. I wish I had researched their open times better when planning my trip to the Baltic Sea. Alas, I will need to travel there again someday, but at least I was able to get pictures through the windows, and their website contains a wealth of information about them.
The Mini Bottle Gallery in Oslo, Norway has a collection of 53,000 mini bottles. You know, like those little bottles of alcohol that you might purchase on an airplane. The Gallery's website states that "of the museum's 53,000 bottles in total, 12,500 are displayed in over 50 unique installations. And 40,500 small bottles are strictly monitored in the bottle vault."
At approximately 1.7 ounces of liquid per mini bottle (at least that is what you are served on an airplane), that would be a total of 90,100 ounces of something to drink in these bottles in this gallery. That is equivalent to 11,263 cups or 704 gallons! (The accountant in me had to figure this out.) Now that's a lot of bottles, and a lot of liquid! And, I'm pretty sure that drinking from any of these bottles is not allowed.
It was all these bottles that I really wanted to see the day I tried to go to the museum. But, in peeking through the windows, I at least got a taste of what was displayed inside. (Pun intended.)
From their website in doing my research for this blog, I found out though that the gallery is much more than just a museum. They have the facilities to host a variety of parties and celebrations, business lunches and conferences, and other events. They have two bars and four function rooms, including "The Liqueur Room," "The Banqueting Hall," "The Beer Hall," and "The Mini Bar."
The gallery can even help you out with finding entertainment for your soiree, such as clowns or comedians, and even DJ's and live bands and dancing. And it looks like they even assist with the invitations, and serve all kinds of tasty-looking food.
Christian Ringnes Jr., also known as "The Mini Bottle King," is the founder of this gallery/museum/fun place. When he was 7 years old, Christian's father gave him a "half-empty" bottle as a gift. (For positivity, I'd rather say a "half-full" bottle.) It was then that Christian began collecting the miniature bottles that would someday become the center of his fine establishment.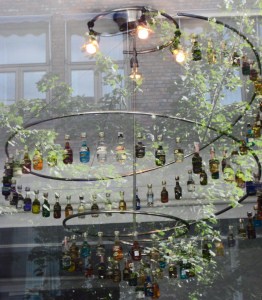 Christian's great-great-grandfather also influenced his interest in bottles, as he was the one who founded the honored Ringnes Brewery in 1877, which is now part of the Danish brewing giant Carlsberg.
The next time I get to Oslo, I will really need to pick a day when this gallery is open to the public, which is the weekends. Or, if I had known, I could have booked a private viewing. Or perhaps, I could someday hold an event there, as it sounds quite fun. (Not sure, though, how many of my friends would travel all the way to Oslo just for a party…)
I have several questions about this place that I would ask during my future visit. Is there only alcohol in all those bottles, or is there some other kind of beverage? Does Oslo have earthquakes, and if so, are all the bottles somehow secured down? And, why are most of the bottles in the Mini Bottle Gallery in a strictly monitored vault?
Sweet Travels!
Please read my other "quirky" museum blogs:
The Toy Museum in Helsinki, Finland
"The Shoe Museum" in Stockholm, Sweden
The Riga Porcelain Museum